Landscape Lighting Installation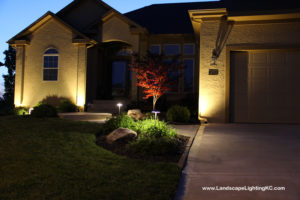 Landscape lighting offers an attractive an unobtrusive means of bringing safety, security and elegance to your residential property. Since 2004, Landscape Lighting KC (a local division of Moonlight Decks LLC) has been providing high quality outdoor lighting installation in Kansas City and the surrounding areas, offering a broad variety of lighting options as well as friendly customer service at affordable prices.
Landscape Lighting KC specializes in the installation of high quality outdoor lighting solutions for residential properties. We work primarily with locally manufactured products from Moonlight Decks LLC, but also have products made by other fine brands. We pride ourselves on the quality of our work and the durability of the results. The types of lighting and other products we're able to install include:
Path lights
Under railing deck lights
Step lights
Wall lighting
Professional transformers (5-year warranty, plus photocell and timer)
Lighted Post caps (for decks) (See Moonlight Decks for custom caps.)
Outdoor grill lights
Low voltage wire
Landscape Lighting KC is proud to offer landscape lighting installation services at rates that are very competitive and commensurate with the high quality of our workmanship. Our installation prices break down as follows:
$235 per light, including wiring and fixtures (plus 5-year warranty)
$235 for professional transformers (plus 5-year warranty, photocell and timer)
$150 for trenching under a sidewalk if needed
In addition to landscape lighting installation in Kansas City, our team is pleased to provide maintenance and repair services. We don't adhere to a maintenance schedule—just call us when you need us, and we'll pay you a visit! (We charge $65/hour for landscape lighting maintenance services.)
Interested in investing in landscape lighting for your property? Landscape Lighting KC is happy to provide free estimates to customers who are interested in landscape lighting installation. Give us a call at (913) 638-1685 to begin the process!