Landscape Lighting KC can make your home look its best at night!
We have been installing and maintaining professional landscape lighting systems in Kansas City for over 10 years.
We serve the Johnson County area ( Olathe, Overland Park, Leawood, Prairie Village, Mission, Fairway, Lake Quivira, Lenexa, Merriam, Roeland Park, Shawnee, Stanley, Stilwell, Westwood, etc. )  We also serve the Kansas City, Missouri side as well as North Kansas City.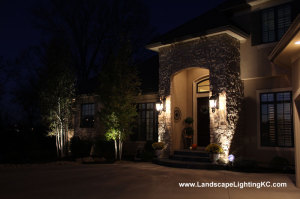 We install professional grade lighting and transformers.  We can repair and maintain just about any system, including the "cheaper" brands from local hardware stores.  We don't require you to use our lights and we are flexible to your needs and wants regarding your lighting and your budget.  Want us to use your old wire and transformer?  No problem.  As long as it is in good working condition.  Just need someone to replace a few bulbs or figure out why the darn things won't light?  No problem.  I love a good puzzle.
So here's our deal:
*New systems install for roughly $200 per light.   That includes the light fixture and the installation and wire. 5 year warranty on the fixtures.
**Use LEDs in the lights and it is $250 per light.   You'll save time and money in the long run.   I'll give you a 5 year warranty on the fixtures and bulbs.
*Professional transformers with a 10 year warranty and a timer and photocell built in are $375.
**Or we can use the Hardware store brand for about $200.
**Maintenance issues are billed at $65 per hour + materials.
Call Steve Hodes Jr for a free estimate.  913-638-1685
Or use our easy contact us form.
Meet with me for a few minutes and hopefully you'll know that I am an honest person who believes in doing things right the first time.  I'm too small as a company to have to come back to repair poor craftmanship.  And no one would refer me to their friends and family if I did a poor job.  My prices are higher than some, and lower than others, but you will definitely get what you pay for.  I've been installing landscape lights in Kansas City since 2004.